The Times' excellent correspondent, Kaya Burgess, is currently in the Netherlands on a fact-finding mission, along with London's Cycling Commisioner Andrew Gilligan, Scotland's Minister for Transport Keith Brown, and others. I hope they like what they are seeing (it's impossible not to). However, I think it is important that they fully understand the context and application of the interventions for cycling they are looking at.
Just one example – on Monday Kaya tweeted this picture of the 'Fietsstraat' sign –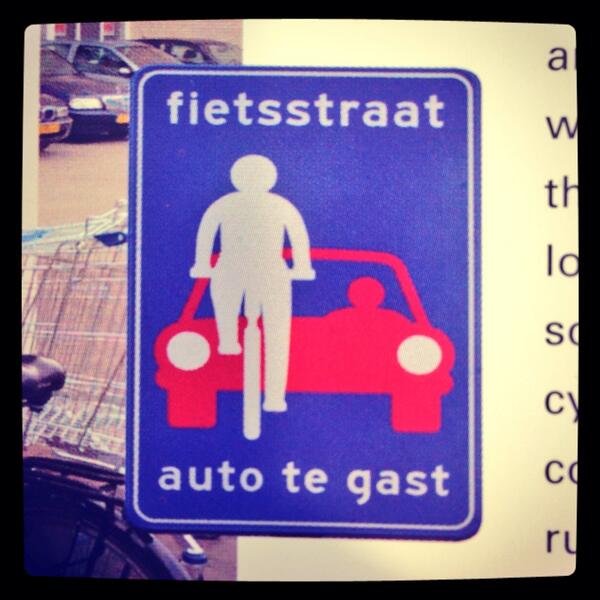 Writing that it 'gives cycles priority' on Dutch residential streets.
Well, yes and no. Literally, the sign suggests that cars are 'guests' on this particular street. But it was immediately misunderstood by several people who responded to Kaya's tweet – one wrote that
Every cyclist [should] make one and put it in their street
Another
THIS is what we need to back up the 20's plenty campaign
And another
On every road cyclist are protected by law, and cars take second place. If there is a acident its by law the cardrivers fault.
Every single aspect of that last tweet being completely wrong.
Here's what the Dutch CROW manual has to say about one particular version of the Fietsstraat –
I have highlighted that this particular Fietsstraat treatment (combined profile, i.e. motor vehicles and cyclists travel on the same 'red' cycle surface) should only be applied on access roads, where, as you can see, motor vehicles should not number more than 500 per day, or just 20 per hour (likely to be rather higher at peak times, of course, but probably only amounting to around just one or two vehicles every minute).
The same is true for other versions of the Fietsstraat. They are intended for use only in these very low motor traffic environments; places where motor vehicles are only using the Fietsstraat to access a deliberately small number of properties. The cars are 'guests' only because they are using the cycle street to access their own houses; they're not being told to be 'guests' in a 'please play nicely' kind of way, which is likely to be completely ineffective.
Here's a different version of the Fietsstraat – one with cycle tracks to the side, and central divider.
Again, this route will only be used by motor vehicles accessing a limited number of properties, and in very small numbers.
Simply plonking up 'cyclists have priority' signs on a typical UK residential street, which will have much higher levels of motor vehicle usage, will almost certainly achieve nothing, and may even be a recipe for conflict (I have pointed this out before).
The key ingredient of the Fietsstraat is the removal of motor traffic; the signs are merely the icing on the cake.